Statement released Monday, April 20, 2020
To Clergy and People of the Diocese
"On the evening of that day, the first day of the week, the doors being locked where the disciples were for fear, Jesus came and stood among them and said to them, 'Peace be with you.'" John 20:19
Dear Friends,
For more than a month we have been experiencing a time of anxiety and fear. The life of nearly everyone in our country has been changed to some extent as we physically distance in order to fight the Covid 19 pandemic. In recent weeks there has been a growing sense of sadness as seniors in our province have succumbed to the disease. We have been praying for those who provide essential services in this time, especially those who work in senior's care facilities. In the past week this focus has been on the residents and staff of the Northwood Care Home in Halifax where 5 residents have died.
In addition to all we have been experiencing, the events of Saturday and Sunday in northern and central Nova Scotia have been almost too much to bear. There are few details of this mass shooting at this point, although we do know that at least 17 people are dead in communities over a 90 kilometer swathe of the province. The death toll has continued to rise as the investigation continues. The names of those killed are beginning to be released by family members but there are many, many unanswered questions at this time. The magnitude of violence in an area better known for peace and beauty, is mind numbing. In a province this small, the web of relationship means that much of our population has been directly affected. In the face of this tragedy we can do no more than grieve, to share in sorrow and to reach out by whatever means available to us at this time, to support one another.
We are in the season of Easter. It is a time when we remember that evil and death do exist and run through our society and culture. It is also a time when we remember that life and love ultimately triumph over evil and death even though this is not immediately apparent. We pray for those whose lives have been so deeply impacted. The families of those killed and injured, friends and neighbours, the first responders, those called to offer care and support. May we be the means of life and love in this time when we have experienced evil and death.
A Collect Prayer for a Day of Gun Violence
O God, you who are the glorious Lord of life, of death, of resurrection;
We ask you in the Name of your Son who is the Prince of Peace;
Make us mindful of your eternal presence of life in the midst of shock and grief;
We lift before you all affected by this weekend's mass shooting in our Province Nova Scotia: the dead, the wounded -- all who know and love the victims;
he RCMP and all first responders, all government leaders.
Keep our communities already reeling from the shock of the reality of Covid-19 safe. Draw us ever closer together.
May we be a continuing source of comfort and care to one another.
May this be so to your glory so that the work of your redeeming, transforming love may be known to all.
We pray this in the Name of the Holy One who enters into fearful, hurting lives; the One who says, "Peace be with you. My peace I give you." Amen. Fr. Douglas Beck
Give Us Hope
When evil darkens our world, give us light. When despair numbs our souls, give us hope. When we stumble and fall, lift us up. When doubts assail us, give us faith. When nothing seems sure, give us trust. When ideals fade, give us vision. When we lose our way, be our guide! That we may find serenity in Your presence, and purpose in doing Your will. Amen. John D. Rayner
Jesus, our dead and living friend,
We walk the ways of death and life holding fear in one hand and courage in the other.
Come find us when we are locked away.
Come enliven us.
Come bless us with your peace.
Because you are the first day of creation and all days of creation.
Amen. The Corrymeela Community
In peace,
+ Ron
The Most Reverend Ron Cutler
Archbishop of Nova Scotia & Prince Edward Island
PDF of document above, to read, print &/or download
Financial Information for Parishes – April 18, 2020
from Glen Greencorn, Diocesan Controller
Rectory Costs
In its decision to cover stipendiary clergy salary costs for parishes for April and May, council included housing allowances paid to those clergy. Twenty-six (26) parishes in the diocese have a rectory and do not pay a housing allowance. In 2018, (the most current complete year available) the total cost of rectories (as reported on the Parochial Returns plus the $5,000 base amount) was $323,692. On average this is $26,974 per month or $1,037 per parish per month.
Today Diocesan Council passed a resolution to pay 2/12ths (two months worth) of the rectory costs reported on the 2018 Parochial Return to a maximum of $2,075 to those parishes. The $2,075 was calculated as the average cost spent over two months for those parishes and would include major repair costs in addition to normal operating costs.
Federal Government Programs
There continues to be a number of announcements from the Federal Government about various forms of assistance to individuals and organizations as we collectively try to deal with the impacts of the COVID-19 Pandemic. Often when these announcements are made not all of the details about the programs are available and that creates some confusion about eligibility and impact.
I have received many questions about some of these programs. I hope that the following will address any that your parish might have.
Is the Parish eligible for the Canada Emergency Benefit Assistance (CEBA)?
CEBA is a program whereby a qualified organization may borrow up to $40,000 (interest free) and if 75% of the principal is repaid by December 31, 2022 the balance is forgiven.
The short answer is probably not. Religious organizations are specifically excluded unless they generate revenue from the sale of Goods or Services. There is an opinion that those goods and services would need to be taxable goods and services.
It is important to note that this is a loan – not a grant – and needs to be repaid (in whole or in part).
What is the Canada Emergency Wage Subsidy (CEWS)?
CEWS provides a 75% wage subsidy to employers for up to 12 week retroactive to March 15.
Who will make the application for CEWS?
The Diocese will attend to the application for all employees (Clergy or Lay) for whom we process payroll. Those parishes that have a CRA Payroll account for any lay staff employed by them will need to apply for this subsidy for those employees through your "My Business Account" portal. If your parish does not process payroll you do not have to do anything.
What is the process for applying for the CEWS?
At this writing the application process is not defined. The application must be made on-line through the "My Business Account" portal with CRA. I will continue to monitor the CRA website to see when the process is defined.
My Parish has some Contract People can we get the Subsidy for them?
No – the wage subsidy program is only for employees for whom mandatory employment deductions (Income Tax, CPP, EI) are withheld. If you are not withholding and remitting these amounts you are not eligible for CEWS.
What should we do with our employees?
This is a parish's decision. If you keep them on and the diocese processes payroll, the diocese will apply for and apply to your parish any wage subsidy received. If you keep them on and process your own payroll, you will need to apply for the CEWS.
If you choose to temporarily lay-off paid staff you will need to issue a Record of Employment and the staff member would apply for EI or the Canada Emergency Relief Benefit. This is an amount of $2,000 paid directly to qualifying individuals. If your staff member is paid through the diocesan payroll, advise the payroll office with the details and we will issue the Record of Employment.
What should we do with our contract staff?
This is a parish's decision. It may be in your contractor's best interest for you to suspend the contract (according to the terms of our contract) so that they may be able to apply for the Canada Emergency Relief Benefit. This is an amount of $2,000 paid directly to qualifying individuals.
What if I have more questions?
Send them along to the diocesan controller ggreencorn@gmail.com. This is a "fluid" situation and programs are being announced and updated frequently. New questions come up and I will endeavour to answer them based on the best available information.
PDF of document above, to read, print &/or download
Statement released Wednesday, April 15, 2020
To Clergy and Parishes of the Diocese
"Therefore, since we are surrounded by so great a cloud of witnesses, let us also lay aside every weight, and sin which clings so closely, and let us run with endurance the race that is set before us, looking to Jesus, the founder and perfecter of our faith, who for the joy that was set before him endured the cross, despising the shame, and is seated at the right hand of the throne of God." (Hebrews 12:1-2)
Most years I find myself emotionally and mentally exhausted in the week following Easter Day. If you want to "push a button" for most clergy, ask for a meeting on Easter Monday! This year is not like "most years". Our season of Lent was marked by the declaration of a Public Health emergency. The restrictions on gathering and movement added to the penitential nature of the season, as has the underlying message that beneath the "giving up" of these normal freedoms there is a desire for health and a care for others in our communities. As churches, we joined in the broader societal scramble to adapt our way of being to these new realities. Video conferencing for meetings, live streaming, audio and video recording for our worship, additional resources to turn every home into a place for worship and study. In the back of my mind for the past month was the question, "Would we be able to gather for Easter?" The answer was no. No, we did not gather in the ways we did in the "before Covid" time. No, the traditional liturgies of the church did not take place at least not in the ways we have known them. They did happen- but in new ways. We celebrated and we continue to celebrate the resurrection of Jesus. We continue to celebrate God's great 'yes' to life in the face of death. The upside down view of the world which Jesus lived and proclaimed (the kingdom of God) came to its pinnacle on the cross.
Once again I want to say thank you to those who have worked so hard to maintain contact within congregations over the past month. For those who have learned new technologies to gather people for worship and study. For those balancing work at home with the increased demands of home schooling and disrupted family life. For those who continue to provide the financial support necessary for ministries to continue. Please continue to pray for those who are dealing with the reality of this pandemic every day. For healthcare workers, first responders and those whose jobs in serving the public have been deemed essential. Please pray for those who live with anxieties and those cut off from family and physical support networks. Please pray for those who are mourning without the kinds of community support that is usual and vital in those times.
Lent is over, we made it to Easter. A lot of energy has gone into getting us this far, but this is not the end of the fight against Covid. The Public Health Emergency is not going to end soon. Everyone is asking the question "How long will this go on?" - including me. The answer is we don't know and the only way to keep it as short a time as possible is to follow the directions we have been given. I have previously asked you to plan for the restrictions to continue to the end of May. According to the modeling released by the Nova Scotia Department of Health that may be an optimistic target. The race we are in is not a sprint, it is a marathon. We need to pace ourselves if we are going to finish this race.
We need to appreciate the "upside down" nature of the kingdom in which we are now living. There have already been things which we have "set aside" in this race? Are there others that we have come to realize are irrelevant in this moment (or maybe even permanently?) How do we draw more people into the new ministries we are creating? Are we continuing to discerning the gifts necessary for the Good News to be proclaimed in this moment?
The public health people keep reminding us that we won't know we have hit the "peak" of the pandemic until after it has past. In the middle of it we can't do the proper analysis. It is too soon for us to appreciate how many of the changes we have entered into, will impact us well beyond the end of the Covid pandemic. Despite the longing to return to normal we need to remember two things 1) What was normal was not perfect, no matter what kind of normal you are thinking about. 2) This experience has taught us lessons, both good and bad. When anyone has a significant disruptive experience they are changed. We have been changed.
Perhaps there is a third thing we need to remember: A virtual hug is no substitute for the real thing.
Alleluia, the Lord is Risen! The Lord is Risen indeed, Alleluia.
+Ron
The Most Reverend Ron Cutler
Archbishop of Nova Scotia & Prince Edward Island
PDF of document above, to read, print &/or download
Alternate Giving
Information for Parishes regarding different forms of giving for your parishioners
From: Glen Greencorn, Diocesan Controller
Date: April 8, 2020
Canon 35 section 16.1(h) and section 16.2 refer to money received by a Parish or Church. The basic requirement is that any money received on behalf of the Parish is deposited "immediately" into the bank account established by the Parish Council. Administrative Policy 2.2.3 "Envelope Procedures" establishes the minimum internal controls over receipts to help protect the parish and all other parties involved in receiving money on behalf of the parish. This policy was created in 1996 and has not been updated to deal with alternative forms of receipts.
Linked below is a summary of some alternative forms of giving that parishes may choose to offer their parishioners (other than the regular offering plate) in order of preferred methods. It is not a comprehensive list as new technologies emerge very quickly.
April 9, 2020 – I've received this from a parish.
Glen,
You may want to drop PayPal from any suggestion as a way for parishes to accept monetary gifts or other payments. From our experience (major fraud issue), PayPal has too many "holes" in its system. One being, that PayPal will process payments by depositing funds in an account other than that specified by the payee (third party). They also will process cheques via electronic deposit (i.e. photo deposit) into a third party's account without endorsement.
Regarding e-transfers in to a parish, as recommended by the accounting firm we use, it is best practice to set up a dedicated e- mail to receive e-transfers (here at NNN it is payment@NNN.ca). Then set the receipt of e-transfers with the Parish's bank account to "automatic" that way, no individual can redirect the receipt of the funds into another account.
PDF of complete document introduced above
Contact Glen Greencorn, Controller
Statement released Wednesday, April 1, 2020
Dear Friends;
After a while it is difficult to find the appropriate adjectives to describe the period of time we are living in. "Extraordinary" and "Unprecedented" probably top the list but many more apply. It is a time when social cohesion is needed in order to contain the spread of the Coronavirus in our communities. We are being entreated to STAY HOME, WASH YOUR HANDS, and DON'T GATHER. These are not optional behaviours, they are truly matters of life and death, if not for ourselves, than for others close to us. Health care providers and support staff, and basic service providers are valued as never before. It's sort of a kingdom moment when the influencers in our society have been sidelined - the last first and the first become last!
In other aspects of our parish life, we are discovering a whole range of new options. Some will be more effective in certain communities/congregations than in others. It is a time for all leaders, both clergy and lay, to step up in consultation with one another about the resources available to worship, connect, teach and support. Our buildings are closed however the call to participate in God's mission has not been deferred. Rather than a time of idleness, this has meant increased activity in many parishes as we figure out how to fulfill our traditional purposes in new ways.
In both provinces, there are continued restrictions on any gathering of more than 5 people. On March 15th, I wrote that public worship services would be cancelled at least until April 3rd, 2020. In compliance with the Public Health state of emergency in both Nova Scotia and Prince Edward Island and until directed otherwise by provincial authorities, public worship continues to be cancelled. I recommend that plans be made for this to continue until the end of May.
On Friday March 27rd, the Diocesan Council voted to waive parish allotments for April and May (in addition to the previously announced waiver for March). The diocese will also pay all payroll costs for stipendiary clergy for April and May. A small task group has been given authority to respond to other requests for financial support not covered by these first two resolutions. This is a commitment of $1.3 million to support ongoing parish ministries in this extraordinary time. It represents all of our accessible working capital. It is not intended to be a complete income replacement for parishes. We continue to explore (along with other dioceses) if we may be eligible for the payroll subsidies offered by the Federal government. Glen Greencorn, our controller, has developed a FAQ list related to the council decisions.
Where our buildings are not being used on a regular basis, there may be insurance implications. We will send out a separate information sheet for parish officers about procedures to be followed.
We are still in the midst of the planning and preparation for an Electoral Synod to take place on May 30. At it's regularly scheduled meeting on April 17-18, the Diocesan Council will decide on a provisional alternate date for the Synod to take place. We have already cancelled or postponed all diocesan events up to the middle of June, so this seems to be a logical precaution. Having started the process to elect a new bishop, there is really no way to stop it. Therefore, the deadlines previously announced remain effective. This means that names of those to be proposed to the search committee for consideration as nominees must be submitted by midnight Saturday April 4 to the secretary of the search committee. If we are unable to gather on May 30 we will use the provision in Canon 1 section 12.2 to postpone to a date selected by Diocesan Council.
It is wonderful to see that over 50 of our parishes are now offering some form of online worship and that 12 more parishes (in areas of low or no internet service) have distributed special printed worship material to families. The majority of these worship services have been services of the Word rather than celebrations of the Eucharist. In the
past week, there has been a lot of online debate about the wisdom or appropriateness of streaming the Eucharist online. Some bishops have declared a "Eucharistic fast" for this time. I am not going to do so. There is a great variety in the ways that we as Anglicans approach the Eucharist. That variety is expressed in the Eucharistic piety of the parishes in our diocese. I will not order priests to stop presiding at Eucharist. Instead, I am leaving it up to the consciences of clergy and the discernment of parish leaders to determine the most appropriate ways to worship while we are prevented from physically gathering the Body of Christ.
There have been different calls to join in prayer across the country at different times. There have also been some suggestions regarding ringing all our church bells at the same time on Easter Day. I'm not sure that it is important to coordinate a specific time to ring the bells as much as to ring them! Don't wait until Easter - do it this Sunday as a reminder that we are still here and as a call to prayer - not in a building but throughout our communities.
Blesssings;
The Most Reverend Ron Cutler
Archbishop of Nova Scotia & Prince Edward Island
PDF of document above, to read, print &/or download
Property Insurance during COVID 19
from Peter Flemming, Diocesan Insurance Administrator
April 1, 2020
To All Parishes of the Diocese
The bigeest threats to our buildings right now are risks of Bursting Pipes, Vandalism and Fire.
Burst Pipes: As you can see from the Vacant Building Checklist (linked below), if water is left on, then 72 hour inspeictions are ncessary. Recommended (when at all possible) is that the toilets/sinks/pressure tanks/water pipes be drained and the water shut off.
Vandalism: The RCMP Detachement nearest to the building should be asked to include the property in their inspection route.
Fire: Furnance inspectrions must be up-to-date/or updated. Oil levels must be monitored. In the event of a snow storm, access to the building must be maintained by the contractor/volunteer who normally keeps the entrances to the buildings and parking lots plowed.
I am happy to discuss any of your questions
Peter Flemming
insurance@nspeidiocese.ca
April 20, 2020
NOTE: Please see attachments which we've received from Ecclesiastical Insurance Company in regards to unoccupied churches due to the covid-19 virus.
COVID19 Idle Buildings Bulletin
COVID19 Idle Buildings Checklist
Vacant Building Checklist
Contact Peter Flemming by email
The Controller responds to FAQs
Released March 31, 2020
Frequently Asked Questions regarding the decisions of Diocesan Council on March 27, 2020.
1. What does "to pay the salary costs of all Stipendiary Clergy from April 1 to the end of May include"?
· The salary costs include all base salary, housing allowances, pension contributions, employer share of CPP and EI premiums and the employer share of Life, Health and Dental premiums.
2. Does this coverage of salary costs include any lay staff of the parish?
· No. Parishes are still responsible to pay for their lay staff.
3. Are those salary costs just being deferred?
· For those parishes with less than $500,000 in financial investments (in the consolidated trust fund or invested locally) the answer is NO. The diocese is paying those costs on behalf of the parish.
· For those parishes with more that $500,000 in financial investments the answer is YES. The salary costs will need to be paid back to the diocese.
4. My parish has over $500,000 in financial investments. When will I need to pay the salary costs back to the diocese?
· The date is not yet set. At some point in time the Financial Management and Development VSST will determine that the amounts are due. From that point, parishes will have 18 months to repay the diocese.
5. How will the Federal Government's announcement of a 75% wage subsidy affect my parish?
· There are limited details on this program as of this writing (March 31, 2020) and there are a number of unknowns at this point. Diocese staff and staff from other dioceses across the country are waiting to see how this might benefit parishes.
6. How much allotment is being waived?
· Diocesan Council waived allotment for all parishes for April and May 2020. Previously, the Parish Relations Task Group waived allotment for the month of March. In total allotment is waived for three months on 2020. Effectively, the allotment due for 2020 has been reduced by 25%.
7. I already paid March's allotment, what happens to that?
· Thank you. That allotment payment will be applied to the next month that allotment is due (June 2020).
8. My parish has a financial problem that is beyond just salaries and allotment. What can I do?
· Send an email to the Diocesan Controller (ggreencorn@nspeidiocese.ca) outlining your issue. At its meeting, Council established a temporary working group to deal with issues that it did not foresee. This group can discuss your issue (electronically) and provide a response very quickly.
PDF of entire document shown above
Contact Glen Greencorn, Controller
Statement released Saturday, March 28, 2020
To: The Clergy and Parishes of the Diocese of Nova Scotia and Prince Edward Island
Dear Friends;
The Diocesan Council met last evening by electronic means. We gathered to consider how we might further respond to the unanticipated financial needs of parishes due to the restrictions placed on gatherings. We recognize that this has not only affected monetary offerings from parishioners but also the ability for fundraising and the rental income which many parishes receive. Parishes which rely on investment income will also find this revenue affected. We are also aware that there are large numbers of people who have been laid off in our provinces. Entire segments of the economy are facing devastation as together we try to control the pandemic threat. Though our buildings are closed, the church is still open! We are still leading people in worship although in a scattered rather than a gathered way. We are also encountering increased needs in our wider communities for spiritual and mental health support. This time of crisis requires us to maintain and strengthen our ability to minister in the midst of heightened anxiety.
We are fortunate in that we have had several years of budgetary 'surpluses' which has provided a pool of unrestricted working capital for us to draw on. Most of this money has come from the tremendous support of parishes to the request for diocesan allotment. The Financial Management and Development Team met earlier this week and prepared some options for the Council to consider for how we might use this resource to provide relief and encouragement to parishes.
The Council passed the following three resolutions:
1. To waive allotment payments by Parishes for April and May 2020.
2. To pay the salaries of all Stipendiary Clergy from April 1st, 2020 to the end of May 2020, provided that, those parishes having $500,000 or more in investments (whether in the Diocesan Consolidated Trust or held elsewhere) shall be obliged to repay the Diocese the amounts paid on their behalf, by no later than 18 months after FMD VSST has determined which parishes are subject to repayment.
3. The management team and two members of Diocesan Council appointed by Diocesan Council are authorized to make decisions with regard to requests from Parishes whose needs are not addressed in Resolutions (1) and (2) above. This authority ends on September 1st, 2020 or at such other date, as may be determined by Diocesan Council.
Council subsequently elected the Rev. Carl Fraser and Ms. Tanya Moxley to fill the requirements of resolution 3.
These resolutions build on the previously announced waiver of allotment payments for March 2020.
We do not know what challenges lie ahead of us in the next months. Our governments, both national and provincial, continue to respond to the needs of Canadians. Some of the promised assistance might apply to community and nonprofit organizations and may support our work. Details of the government support will be clarified in the coming days. In the meantime we pray that these decisions will remove some of the concern of parish leaders. We encourage parishes to explore the stewardship resources found in the Covid-19 section of the diocesan website.
"God give us faith to go forward with good courage, not knowing where we go, but only that your hand is leading us and your love supporting us." (Eric Milner-White)
The Most Reverend Ron Cutler
Archbishop of Nova Scotia & Prince Edward Island
PDF of document above, to read, print &/or download
Message from Archbishop Ron Cutler
March 25, 2020
Statement released Friday, March 25, 2020
Dear Friends;
I write today on the Feast of the Annunciation to Mary. It is a day when we give thanks for the message brought by an angel to Mary that she had "found favour with God" and that she would bear a son who would be called "Son of the Most High"… whose kingdom would have no end. It is an account both deeply comforting and deeply disturbing (at least for Mary). It required her active affirmation of God's plan and the assuming of no little risk. The times were perilous and they would be even more dangerous for her. Yet she says yes - "Here am I the servant of the Lord; let it be with me according to your word." Reflecting on Luke 1:26-38 today I wonder: To whom are we an angel (messenger) today, bringing a word from God? What is the word from God being spoken to us? What is the task we are being asked to undertake in our own perilous time? What new thing from God is coming to birth? Do we appreciate how much we are "favoured (loved) by God?
We give thanks today for parents and children, for strength and wisdom for parents amid `the additional pressures on family life at this time. We give thanks for our own parents and those whom we have experienced as parents in our lives.
Since I wrote to you last Friday, a state of emergency has been declared in both Nova Scotia and Prince Edward Island. There are some minor differences in the restrictions which this places on residents in both provinces but the most significant message is – Stay Home! Don't go out except for necessary trips such as buying groceries. Even then it should be only one person in a household.
One of the consequences for parishes is that there are further restrictions on numbers of people permitted to gather. Gatherings are limited to a maximum of 5 persons in both provinces, and proper physical distancing must take place. Please take this into consideration if there is a necessity to gather. There have also been further restrictions on visitation to nursing homes and hospitals. Clergy may visit those who are at the end of life to bring the sacraments, although this may require advance conversations with heath authorities.
It is wonderful to read of the ways that parishes are responding to the restrictions on gathering by offering a variety of forms of worship. In some places this has been a variety of technological ways to come together 'virtually'. In others worship leaders have shared printed resources and invited people to worship in their own homes, together in prayer but separate in location. On March 16th, 2020, I directed that there be no gatherings for public worship at least until April 3rd, 2020. This time frame was consistent with the decisions by both provincial governments to close the public school system until April 6th, 2020, and would give us time to plan for Holy Week and Easter.
It seems clear from comments made by government officials in the past few days that restrictions on gathering will continue past April 3rd, 2020. I am now requesting clergy and parish leaders to plan for a suspension of gatherings for worship for at least two months. This will mean that our observances of "the journey from the glory of the triumphal entry to the glory of the resurrection, by way of the dark road of suffering and death" will need to take unconventional forms. We continue to add resources to the Covid 19 section of the diocesan website to assist leaders in planning worship. If you have resources or suggestions, please send them to Canon Lisa Vaughn (lvaughn@nspeidiocese.ca) I also want to recommend the resource booklet distributed at last year's MORE Mission School for "finding God in the neighbourhood."
The Financial Management and Development Team met by video conference yesterday. They have agreed to proposals to put before a special video meeting of Diocesan Council on Friday March 27th, 2020. These proposals are for additional ways that the Diocesan structure may support parishes at this time. We are fortunate that budget surpluses over the past few years and good management, have given us a pool of working capital which we may use at this time. While this provides us some security in the short term, I need to be open about the fact that if the restrictions on gathering continue for more than three months, more difficult decisions will need to be made. Clergy and Parish leadership should plan accordingly.
These are strange and difficult times. Patterns and schedules are disrupted. We want to know when these changes to 'normal' life will end, even though there is no answer to this question at this time. Powerlessness can bring anxiety, it can also bring liberation. Be gentle with yourself. This is not a sprint this has become a marathon. Use some of the time, newly available in your calendar, to be quiet, to read and to pray. Be gentle with one another, we're all feeling some extra stress at this time. We are making the best decisions that we can, knowing that tomorrow things will probably change. We are not alone.
May the God of hope fill us with all joy and peace in believing through the power of the Holy Spirit.
Blessings,
The Most Reverend Ron Cutler
Archbishop of Nova Scotia & Prince Edward Island
PDF of document above, to read, print &/or download
Statement released Friday, March 20, 2020
Dear Friends,
Amongst many other consequences of the pandemic, you are all aware of the significant financial impact that COVID-19 has had on the Canadian economy. We are receiving questions from parish officers about the potential financial consequences for parishes.
The diocesan office is continuing to assess the financial impact of the COVID-19 restrictions on parishes. The Diocese (through the Parish Relations Task Group) has waived payment of the March 2020 allotment for all parishes. Diocesan staff are investigating the impact of the Federal Government's relief plan and how that may impact parishes. The Financial Management and Development VSST will be holding a special meeting early next week to determine what other steps the Diocese may be able to take to reduce the financial burdens parishes may be experiencing. We are currently arranging for a special meeting of Diocesan Council to take place as soon as possible in order to make decisions about financial support for parishes.
The diocesan payroll for March 31st, 2020 will go ahead as normal.
Stewardship resources continue to be available on the Diocesan website and staff are available to respond to your questions (via email). We have experienced a significant increase in people signing up to make their financial offerings to their parishes through the PAR program. For information please contact Tammy Cummins. One other option for people making donations to parishes is 'Canada Helps'
Just a reminder that the deadline for filing your 2019 Parish Returns has been extended to April 30.
We are in a virtual state of emergency in both Nova Scotia and Prince Edward Island. We are in uncharted territory. While there is need for speed in making decisions to slow the spread of the pandemic there is also a need to be wise in how we can use the resources entrusted to us in order to continue the mission we are commissioned to do.
I am aware of the wonderfully creative ways that people are responding to the constraints of the moment in offering devotions, worship, bible studies and meetings by electronic and other means.
I pray God's blessing on your continued desire to serve one another in love.
The Most Reverend Ron Cutler
Archbishop of Nova Scotia & Prince Edward Island
Above document to read, download &/or print
Statement released Wednesday, March 18, 2020
Dear Friends,
Following the advice of both Federal and Provincial Health Officials for people to stay home if at all possible, the Synod Office will close as of 5:00p.m. today (March 18 2020). Synod Office Staff will continue working but will do so from home. It is a peculiarity of our office phone system that we cannot retrieve voice messages remotely, however all staff will continue to have access to their email. Response time may be slowed. We will continue to provide what services we can. This will include payroll. We are currently planning for this closure to last until April 3. A decision regarding extending the office closure will be made on or before April 3 2020.
VSSTs and Task Groups may still meet. However all such meetings will be by electronic means. People wishing to use the Diocesan "Zoom" account must book their meeting time through Jan Connors: jconnors@nspeidiocese.ca
Allotment: Yesterday the Parish Relations Task Group agreed to waive the March Allotment payment for all parishes. To be perfectly clear, the decision is that Allotment for March is waived. If you've already paid it there will be a credit for it. If you haven't paid it there is no need to pay it. If you haven't paid February that is still due. Parishes are still responsible for all salary and salary related costs.
Pre Authorised Remittances (PAR): The diocese offers an opportunity for parishioners to make financial offerings to their parish directly from their bank account. If you want more information on this process and how to sign up for it, please contact Tammy Cummins. tcummins@nspeidiocese.ca
Parish Annual Returns: All parishes are normally required to submit their annual returns to the Synod Office by March 31. At this time, we are extending that deadline to April 30. If your parish annual meeting elected new lay and youth delegates to Synod: the "Certificate of Election" must be forwarded to the Synod Office as soon as possible.
Insurance Questions: Parish officers with insurance questions should follow the usual process. Our Diocesan Insurance Advisor is available by phone and email. Our insurance plan does not provide business interruption insurance for this eventuality.
More About Funerals: Yesterday the Chief Medical Officer of Health for Prince Edward Island advised that there should not be more than 20 persons present at a funeral. The different Funeral Homes are developing their own protocols; please check their websites for additional information. .......
Read the entire 2-page communication
Statement released Tuesday, March 17, 2020
To: The Clergy and Parishes of the Diocese of Nova Scotia and Prince Edward Island
Date: March 17th, 2020
The Diocese recognizes some the pressures that Parishes are facing given the extraordinary COVID-19 restrictions that now prevent our parishes from operating normally. To that end, the Parish Relations Task Group unanimously agreed to waive the March 2020 Allotment Payment for all parishes.
We recognize that this will not alleviate all the financial pressures that Parishes will face but it is a measure that can be done quickly.
In the coming days we will be providing parishes additional stewardship resources on the Diocese's website.
The Most Reverend Ron Cutler
Archbishop of Nova Scotia & Prince Edward Island
pdf of about statement
Statement released Thursday, March 12, 2020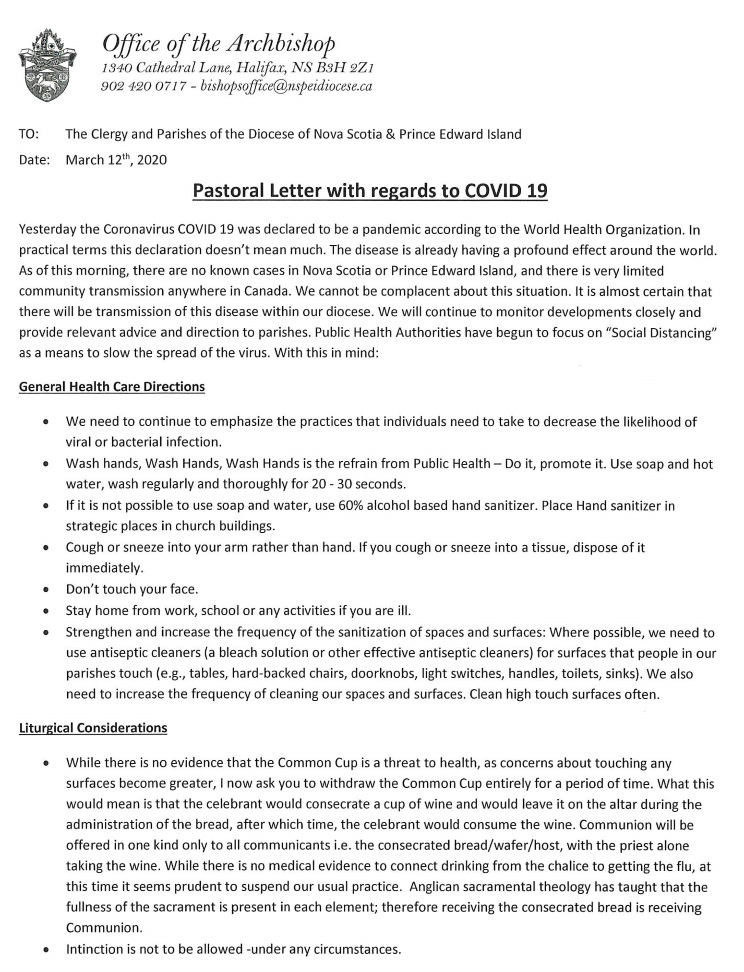 .... Read, download &/or print the entire communication.